Create professional banquet event orders in minutes

and spend less time on busywork and paperwork
Customize your own BEO templates
Create your own custom BEO layouts or start with our pre-built layouts for client-facing, kitchen, front-of-house BEOs and more. Select which event details you want to include (including default language) and arrange how they are displayed. Brand it all with your logo and colors.
Generate BEOs from previously entered data
Never again double-enter information to build your event and kitchen orders. Our banquet event order software integrates with our other tools so your BEO details are always synced in real-time, including event dates and times, contacts, locations and event spaces, headcounts, pricing, timelines and payments.
Add food-and-beverage packages with ease
Our banquet event order software app connects to our catering software tools so you can add food-and-beverage packages on-the-fly. Easily display food and drink menu items with descriptions, pricing, serving portions, dietary notes, serving times and more.
Collect electronic signatures for each BEO
Need your clients to sign off on your banquet event orders? No problem. Our BEO software allows you to send a request to clients to e-sign your event run sheets. Clients can either sign from an emailed link or log into their Client Portal to sign. And dashboard alerts let you know their signature status.
Send and share BEOs in minutes
Download clean, concise PDF documents of your BEOs - one at a time or in batches - so you can print them out and share them with clients and staff. Or use our integrated client CRM and communications tools to easily email event order PDFs directly to contacts.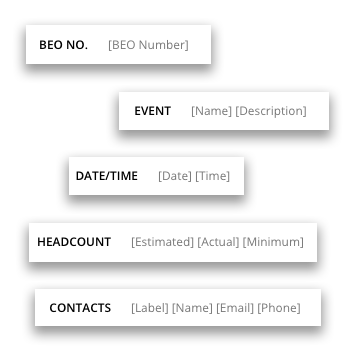 ---
---